Waste Tyre Pyrolysis Carbon Black Processing System
From:未知    Date:2014-12-16 11:47
Till now there are 3 billion waste tyres in the world, each year 1.5 billion tyres may scrap. And this data is growing fast annually. Such wastes cause serious environment problem in our daily life.How to solve or recycling these waste recource, that really important and supported by every government.
As continuous development of China's automobile industry, and tremendous development of domestic economy, more and more cars come to our families, so far the quantity is about 200 million in China, and it will become larger year by year.
After pyrolysis, we can get metal parts, heavy crude oil, gas and carbon black. Metal and gas can be recycled. Crude oil can be distilled into fuel oil. Carbon black can be further processed into different sizes, and broadly used in rubber and painting industry. The specific usages are as followed:
1. 50~200mesh, can be used as fuel in the heating system.
2. 200~300mesh, can be pelleted as ball, used as air deodorant, waste water processing, etc.
3. 200~800mesh, can be used in Rubber industry, such as cable, rubber products (like mud cushion)…..it can improve rubber quality, enhance abrasive resistance and hardness. (Popular)
4. 800~1500mesh, high grade carbon, used as N330, N600, can directly sell in the market as active agent. (Popular and high value)
5. 1000~2000mesh, higher grade, used in painting industry, in our daily life, the pen ink, print ink, used such powder as raw material. High value
6. 3000~4000mesh, highest grade, used in tyre making as the raw material. Purity should be about 99.99%.
Shanghai Clirik Machinery has been in this field over 20 years, designed and produced a vertical powder grinding mill, which are best for carbon black micro powder processing. Please see below standard carbon black processing processing, and we'd like to introduce the workflow: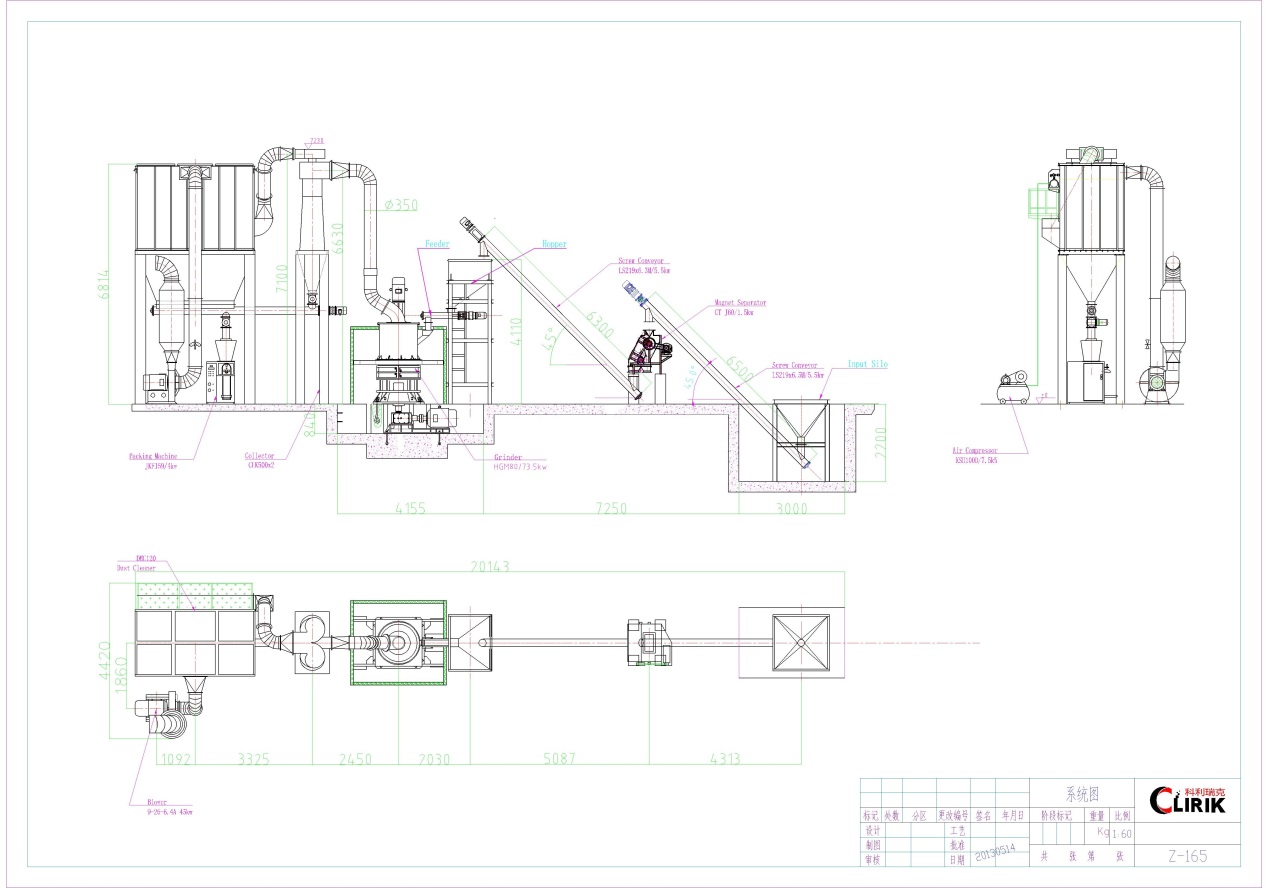 1.
After pyrolysis, CB is a little hot; we put them in a big silo, and let it cool down.
2.
Use screw conveyor to send them into magnet separator machine.
3.
After removing the iron parts, CB will go into feeding hopper (with cover) of our
vertical powder grinding mill
, CB is very dark and sticky, and we must keep all tubes completely sealed.
4.
Use screw feeder to put them into grinder room.
5.
With centrifugal force, it will fall down and be grinded roller between roller and ring.
6.
Blower produces negative wind, which absorbs the powder and make it go through the classifier
7.
Classifier is integrated in the grinder room, it is turning fast, the speed is controllable, so we can select the size we need. The big one will fall down and grind again.
8.
70% powder will go into collector, and the rest will go into filter bag house with airflow.
9.
All powder will be discharged from valve and packed into bags
Such
carbon black processing
system is green energy and waste source recycling.
Also, we'd like to introduce some other mills for CB processing:
1.
Jet mill: high power consumption but low capacity. If the output is very fine, the real capacity will be very small, mostly it reduces monthly.
2.
Raymond mill, only 50~325mesh, roller and ring will easily wear, as CB is sticky and inform a layer between roller and ring. Not suitable.
3.
Ball mill, better for 50~200mesh powder making, worst for CB, high power consumption, and worst performance. Most clients won't use ball mill for production.
HGM series
vertical powder grinding mill
adopts GCr15SiMn for Ring and Roller, which is better than normal 60Si2Mn. So far, it is best for waste tyre pyrolysis carbon black micron powder making.
We have many successful cases on this carbon balck grinding line, includes Brazil, Spanish, India, Egypt, Guangzhou(China), Netherlands. You can check
Tyre Pyrolysis Carbon Black Processing Line in Brazil,
for your reference.
Shanghai Clirik Machinery is the only manufacturer in Shanghai, and one of the best
vertical powder mill
suppliers in China. We warmly welcome your query and visit.
Email: candyli@clirik.com
Tel: 86-21-20236178
Fax: 86-21-58974855
Mobile: 0086-13386218820
Skype: li.candy6
上一篇:Dolomite vertical roller mill grinding in Uzbekistan
下一篇:Tyre Pyrolysis Carbon Black Processing Line in Brazil