Vertical raw mill in cement processing plant
From:www.vertical-mill.net    Date:2013-05-02 09:56
Cement is mixed by ground clinker and gypsum. This kind of cement also called Portland cement. Cement raw materials are mixed by ground limestone, ground clay, and ground iron ore powder in proportion, the mixture is called raw material. Then the mixed raw material is calcined in temperature of 1450 degrees Celsius, the calcination product called clinker.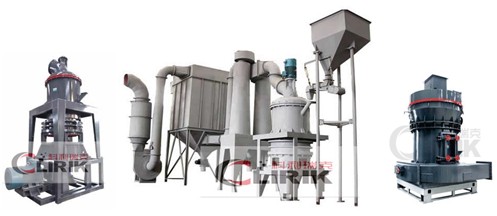 At present, Portland cement clinker vertical mill, vertical roller mill takes up absolute advantage in the powder pulverizing of limestone, clay, grain slag and iron ore, it has become the preferred device of cement raw materials production line. Cement raw material
vertical mill
,
vertical roller mill
sets drying, crushing, Vertical mill, separator, collection and transport together. It has been the first to achieve large-scale production. The floor area is smaller; the unit current drain of pulverizing and metal abrasion is lower. The system powder consumption is between 18.5KWH/T and 132KWH/T. The product's surface area is generally 420 m2/kg to 450 m2/kg, but generally it is lower than 500 m2/kg otherwise it may increase the wear and vibration of mill stone and Grinding roller.
Comparable with ball mill, Cement raw material v
ertical mill
, and
vertical roller mill
has features of low cost, high capacity, easy operation; Comparable with Raymond mill for coarse powder up to 325 meshes, it can produce fine powders between 47 and 5 microns (300 to 3000 meshes)
The cement generally divided into ordinary portland cement, mixed with Portland cement and special cement mixed material. Portland cement mixed with mixed material is ordinary portland cement ratio and a machining program by adding other substances to achieve special effects, such as slag cement, pozzolana cement, fly ash cement, composite portland cement and so on. Cement raw materials than the original ordinary portland cement to be more active mixed material or non-active hybrid materials. Special cement material stage and the production process is somewhat different, such as high alumina cement (aluminate cement)'s, material bauxite, limestone, clinker, and then pulverized calcined aluminate cement.
There needs to use a series of coarse crushing and fine crushing equipment in cement processing.
And order to obtain high-quality cement, advanced raw mill is increasingly needed. What kind of cement has high-quality? The higher the degree of fineness, the stronger the performance of the cement is high quality cement. HGM and YGM series superfine and fine raw mill can be your best choices.
上一篇:Improvement of vertical roller mill output
下一篇:Defects and remedies of vertical milling machine
Related news:
Calcium Carbonate Ultrafine Vertical Grinding Rolle
The service life of ultra-fine vertical roller mill
How does Raymond vertical mill better adapt to the
Gypsum Powder Grinding Mill—Raymond Vertical Mill
Mica powder ultrafine vertical mill hot sale 2021
Application of vertical mill in the production of u