Clirik100 Mesh Phosphate Ultra Fine Vertical RRoller Mill Production Line
From:未知    Date:2020-03-05 15:58
Phosphate grinding powder,
vertical roller mill
equipment is a professional production mill equipment. In this field, a 100-mesh phosphate grinding powder production line constructed by Clirik Mine for customers has officially entered the production stage. According to customer feedback, this ultra fine vertical roller mill production line has high milling efficiency, large production capacity, low energy consumption, energy saving and noise reduction, and the production effect has been highly praised by customers.
Choose a big brand, rest assured
After the phosphate
ultra fine vertical roller mill
production line was put into production, customers were quite satisfied with the quality and after-sales service of the mill provided by Clirik. It has been praised that Clirik's mill is of good quality, low investment cost, and uses automatic operation. Compared with the ball mill, the energy consumption is 40% -50% lower. Whether it is in the production or installation stage, or entering the production or commissioning stage, Clirik's professional engineers have given a lot of support and help. Choosing a big brand is rest assured.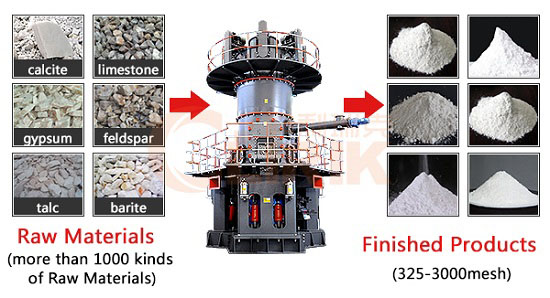 Advantages and application value of

ultra fine vertical roller mill
For many industries such as non-metallic ore, industrial solid waste, environmental protection, building materials, metallurgy, etc., vertical mill equipment has its own advantages and characteristics, becoming a professional mill equipment in these fields. Now look at the application value of Limo. The mill equipment integrates crushing, drying, grinding, classification, and transportation, breaking through the problems and disadvantages of the traditional mill with low productivity and high energy consumption, and the performance indicators of the finished product have been greatly improved. For grinding high-humidity materials, hard-to-grind materials, easy-to-grind materials, dry materials, etc., it is a professional mill with simple operation, long service life, small footprint, low noise and low dust.
Clirik ore mill-

CLUM ultra fine vertical roller mill
[Into the grinding material particles]
: 0-50mm
[Middle diameter of grinding disc]
: 800-5600mm
[Moisture into the grinding material]
: <15%
[Product moisture]
: ≤1-6%
[Production Capacity]
: 5-700t / h
How much does this
ultra fine vertical roller mill
cost? If you want to know the price and selection plan of the phosphate ore powder vertical mill equipment, please call the mill consultation hotline for details, you can also visit the customer site of the phosphate ultra fine vertical roller mill production line, visit the equipment operation details on the spot, contact the hotline:
008613917147829
上一篇:Where is 80 mesh calcite Raymond vertical Mill sold? how much is it?
下一篇:Ultrafine grinding mill helps increase shale ore production and efficiency
Related news: