The Waste Residue Process Equipment-Vertical Grinding Mill Manufacturer
From:未知    Date:2017-06-02 09:53
In the process of industry production, we will produce numerous solid waste, which is generally called industry waste residue. These long-term stacked industry residue not only take up lots of land space but also cause serious pollution and damage to the water system and air. Industry residue process has become the primary point in heavy industry, Shanghai Clirik has produced large scale
vertical grinding mill
which has combine the powder making, drying and transportation technologies.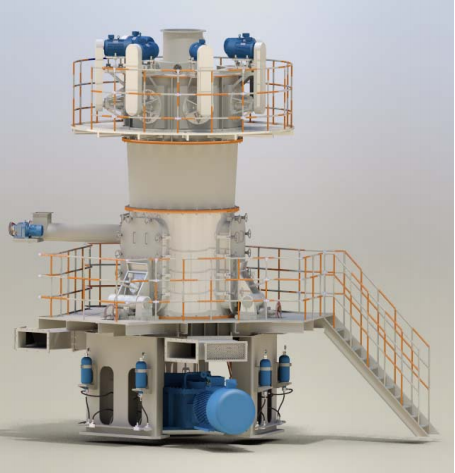 Vertical grinding mill
is the equipment to produce fine and superfine powder of non-inflammable, non-explosive and brittle mineral, chemical and construction, such as calcite, carbon black,chalk, limestone, dolomite, kaolin, gypsum, and talc etc, totally more than 100 kinds of materials. It is mainly composed of bucket elavator, hopper, main unit, cyclone powder collector, dust cleaner, muffler, blower, soud-proofroom and so on.
Numerous advantages has combined in Clirik
vertical grinding mill
. Its Ultrafine grinding can reach 325-2500mesh (47-5um), has fast delivery namely 20~30 days after deposit. Besides, the grinding material moisture under 5% and it has high capacity, 0.5-20 t/h. Its spare parts is eliable and durable, long lifecycle.Firm, durable(steady use for more than 30 years) & easy to use; convenient maintenance.
Last but not least it is environmental protection which could processes waste residue.
If you are interested in our
vertical grinding mill
please send your buying messages in our website, we will get in touch with you and send you the price details as soon as possible. Thank you.
上一篇:Grinding Sword-Clirik Latest CLUM Ultrafine Vertical Roller Mill for Cement
下一篇:Diversified Advantages of CLUM Series Ultrafine Powder Vertical Roller Mill
Related news:
Sepiolite ultrafine vertical grinding mill
What is the essential difference between vertical m
How much does the ultra-fine vertical mill sell for
How does a vertical grinding mill process ore with
Wear problem of roller body in Vertical mill
Vertical Grinding Mill, to Resolve the Processing D