Clirik Wait You On Bauma China 2014
From:Clirik    Date:2014-10-28 10:09
Bauma China 2014, the 7th International Trade Fair for Construction Machinery, Building Material Machines, Construction Vehicles and Equipment is to be held in Shanghai New International Expo Center from November 25th to 28th.
This year bauma China 2014 reaches 300,000 square meters, and attracts 3,000 exhibitors from around 40 countries and regions to attend the exposition. Nearly 200,000 professional persons from 150 countries and regions will present and. It is believed bauma China2014 creates the best exhibition and cooperation platform for exhibitors, buyers and visitors.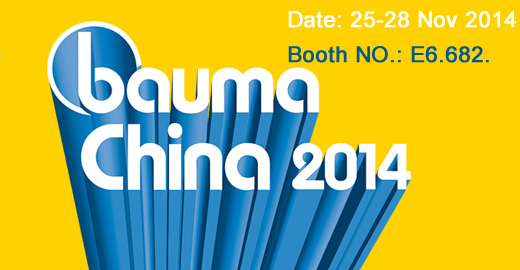 As the leading on grinding mill field, have been imitate, has never been surpassed. As usual we will present our
vertical powder grinding mill
,
Raymond vertical mill
, crushers, powder modifying machine. This year the one of the greatest concern is our new type and largest type machine HGM168
vertical powder grinding mill
, which capacity can get 20 t/h for 500 mesh and 5 t/h for 2500 mesh D97. For this fineness, it must be the largest grinding mill in the world.
Date: November 25-28, 2014
Place: Shanghai New International Expo Center Exhibition
Booth No.: E6.682
Telephone: +86-21-20236178
Fax: +86-21-58974855
E-mail: candyli@clirik.com
上一篇:Diwali Quick Introduction
下一篇:Today is a holiday called Hallowmas
Related news:
Suggested collection, causes and solutions for over
What is the price and output of 300 mesh limestone
Performance characteristics of feldspar Raymond ver
Raymond Vertical Mill Clirik is excellent in price
What materials can be processed by Raymond vertical
Where is 80 mesh calcite Raymond vertical Mill sold